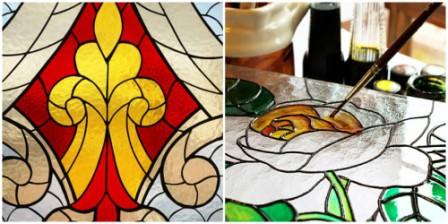 Glass painting classes in Bangalore
Glass painting is one of the most attractive art form.  Painting is been a mode of expression and creativity. The usage of glass in a painting as a base like a canvas for painting. Glass paintings can be as wall hangings, on windows, acrylic sheets, cups, mugs, tiles, mirrors etc.
If you are interested in glass painting and want to try it, go ahead and experience the joy! All you need is a glass piece, sheet of paper of almost same size as that of the glass sheet, glass paints, an outliner, a design, silver foil and some patience with creativity.
Connect us – 9900913033
Water based acrylic glass paints are readily available in market. They are ready to use, convenient and suitable for beginners. The most common and easiest glass painting designs are available on Google, Floral designs are very easy to start with. These days stencils are also available, you can also draw your own design if you are good in that.
Things you need for glass painting:
Glass object to paint or OHP sheet
Cotton balls
Stencils or Design printed on paper
Masking tape
Glass paints
Paint brushes
Plate or palette
Toothpicks
The process that I'm going to be demonstrating is a two day process, including the drying time. Depending on what you are going to be doing it can take anywhere from ten minutes to five hours each day.